1,872 young athletes, 79 countries and 640,000 visitors at Youth Olympic Games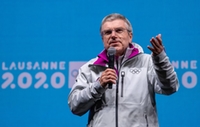 Lausanne (RWH) The International Olympic Committee (IOC) has expressed its satisfaction at the close of the 2020 Youth Olympic Games in Lausanne. "The 2020 Lausanne Youth Olympic Games were an out-and-out success," said IOC President Thomas Bach, even before the closing ceremony.
A total of 1,872 young athletes aged between 15 and 18 from 79 countries took part in 81 events in eight different sports and 16 disciplines at eight different venues in the cantons of Waadt (Lausanne, La Vallée de Joux, Leysin, Les Diablerets, Villars), Wallis (Champéry), Graubünden (St. Moritz) and neighbouring France (Les Rousses, Stade des Tuffes). The Games were the first Winter Olympics to achieve gender equality. The figures were published by the Olympic Information Service (OIS) in Lausanne. Over 640,000 visitors attended the Winter Games in total, 80,000 of whom were school children.
The third ever Youth Winter Games were reported on by over 1,000 accredited media representatives from 39 countries and four continents. The daily summaries of all competitions were broadcast in 191 countries – compared to 89 for Lillehammer 2016. Over 165 hours of live reports were produced by the Olympic Broadcasting Service (OBS).
However, it wasn't just traditional media that were represented; digital platforms also broke new records during the Youth Games. An average of 220,000 individual users visited the Olympic platform websites every day (Lausanne2020.sport, Olympic.org and Olympicchannel.com), three times more than for the 2016 Youth Games in Lillehammer. The social networks attracted around 456,000 new fans on all platforms.