13 new FIL referees from Switzerland passed the examination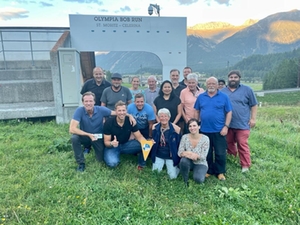 St. Moritz (FIL/10 Sept 2023) 13 new officials passed the FIL referee examination for luge on artificial track on Friday, September 8, in St. Moritz.
Among the new FIL officials were Olympic Bobsleigh Champion Beat Hefti, St. Moritz track manager and former Skeleton World Champion Gregor Stähli and former IBSF World Cup Coordinator in Skeleton Heinz Thoma.
After a sportive training by FIL Sport Director Matthias Böhmer and a technical training by the Swiss Olympic TD Reto Gilly, all 13 Swiss officials passed the written exam to become FIL judges and can now work as officials at international FIL competitions. The referee licenses were handed over directly to the officials.
"We are happy that there are now more officials in Switzerland who, with their sporting and technical knowledge of luge, can be used as officials at international competitions," said FIL Sport Director Matthias Böhmer.