Summer in Europe is winter in New Zealand. Adam Jedrzejko from Poland and Italian Greta Pinggera are back on the track in New Zealand during these weeks.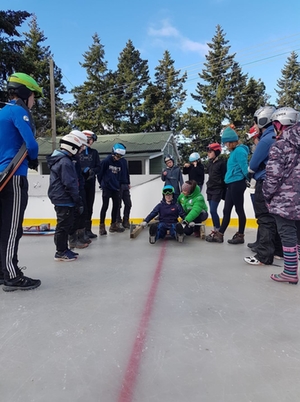 The luge centre in New Zealand is the Naseby Skating, Luge and Snow Park. The natural track is simply amazing, says Vice World Champion Greta Pinggera: "It's a great track. However, the temperatures are relatively warm, there is hardly any snow. But especially for children the conditions are perfect ". In New Zealand, Pinggera, together with Jedrzejko, is helping local luge-athletes. "We had 2 luge camps, in total there were about 50 children". New Zealand's best-known and most successful natural track luger is Jack Leslie, who finished on 5th place at the World Championship 2017. The young lugers Sam Flanagan and Benjamin Voice are also competing at the FIL Luge World Cup on Natural Track. "The biggest problem is the distance, it is not possible to send 20 children from New Zealand to Europe. In future maybe 4-5 New Zealanders will be in the World Cup in a couple of years", Pinggera says. Adam Jedrzejko is finishing his fifth year in New Zealand, where the Athlete is also taking care of the track. Pinggera and Jedrzejko stay in Naseby for a total of 6 weeks, returning to Europe in mid-August.

The FIL supports the development work of well-known athletes in New Zealand with a cost subsidy on the plane ticket. The coaches in New Zealand get a small fee from the local Federation, as well as accommodation.

The FIL Luge World Cup on Natural Track 2019/2020 starts shortly before Christmas in Winterleiten (AUT). The conclusion and highlight of the season is the European Championship from February 21st to 23rd in Moscow (RUS).