6-time Olympic Champion Natalie Geisenberger is looking forward to her second child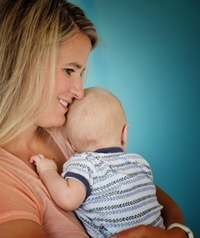 Berchtesgaden (FIL) Olympic Champion Natalie Geisenberger (GER) announced on her social media channels announced on the weekend of 2/3 July, 2022 that she and her husband Markus are expecting their second child.
The 34-year-old 6-time Olympic Champion and 9-time World Champion gave birth to her son Leo Maximilian in May 2020 and took a break from competitive sports in the 2019/2020 season.
After her comeback for the 2020/2021 season, the athlete from Miesbach immediately secured her eighth victory in the overall World Cup and won two gold medals in the individual and with the team at the Olympic Winter Games for the third time in a row the following winter. With this hat-trick, Natalie Geisenberger became Germany's most successful female winter athlete at the Olympic Games.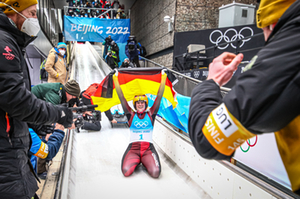 From now on Geisenberger wants to concentrate fully on her family: "I am doing very well so far. We are totally happy and very much looking forward to baby number two. It's just a very nice enrichment for our family," Geisenberger said in a statement from the Bobsleigh and Sledding Association for Germany (BSD).
On her social media channels, Geisenberger shared a photo with three pairs of shoes and one pair of baby socks. While the birth years of the Olympic champion, her husband and their son born in 2020 are written next to the shoes, "Baby Loading" is written next to the socks. The woman from Miesbach wrote on Instagram: "1+1=4. We are so excited for you".