67th FIL Congress in Ljubljana to elect first ever FIL Vice President for Marketing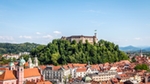 Ljubljana (RWH) The Slovenian Luge Federation is due to host its first ever congress of the International Luge Federation (FIL). On 14 /15 June 2019, delegates from the international sports association will be meeting in the Slovenian capital of Ljubljana.
As well as reports by President Josef Fendt (GER) and Secretary General Einars Fogelis (LAT) and a financial report by Vice President Harald Steyrer (AUT), the congress agenda also includes a vote on the new Vice President for Marketing. The role was created last year at the FIL's 66th congress in Bratislava.
Attendees will also vote on the host location for the 51st FIL World Championships in 2023. Oberhof has already applied to host the event. The winter sports centre, located in the Thuringian Forest in Germany, has already been selected to host the Biathlon World Championships in 2023.
As usual, the congress will also vote on any requested changes or amendments to the statutes and the International Luge Regulations. Representatives from Beijing – host of the 2022 Winter Olympic Games – will also report on the current status of preparations.