Aiva Aparjode is a Proud Mom, Olympian, and First Coach of her Successful Luge Kids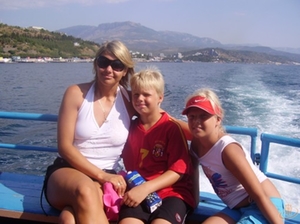 Berchtesgaden (FIL) Aiva Aparjode is 45 years old, works in her hometown Saulkrasti as the manager of the town's sports center, and is a member of the town council. In the evenings, the Olympic athlete and mother of world-class lugers Kendija Aparjode and Kristers Aparjods, gives sports courses as group training for women and, of course she helps her children's father Dainis Aparjods, who trains the children of Saulkrasti in luge.
Young mom on the ice track
The talented 19-year-old Latvian luger Aiva Briede suddenly disappeared from the international scene in 1996. Two years later she came back as Aiva Aparjode, was only 21 years old and already had two children. Daughter Kendija was born on 12 December 1996 and son Kristers only 14 months later. The young mom celebrated her comeback in luge: "I was still quite young and so I had the opportunity to come back," says Aiva Aparjode. "I was always supported by my husband, the children were looked after by my mother-in-law and went to pre-school." Kendija and Kristers were too small at first to worry about where mom was," Aiva reports, "When I came home, the main thing was to bring presents and sweets from abroad!" She has never felt a difficult double burden with a career and children. "It was never a problem to go to training camp, the children were always well looked after and often accompanied me, though then always
with their father."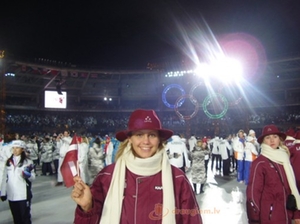 When Aiva was travelling, there were phone calls to home every day: "The phone bills were impressive. Back then, there was only the landline and no free phone services like
WhatsApp. I missed the family when I was on longer trips. But most of the time the time flew by," the luge mom remembers.
Aiva competes at the 2006 Winter Olympics in Turin
Kendiija and Kristers were already 10 and 8 years old when Aiva raced to 18th place for Latvia at the 2006 Winter Olympics. "As for the 2006 Olympics, Kristers doesn't really remember me being there because he was too young. But at no point did the kids stop me from qualifying or otherwise affect my sporting career. In fact, it was all very easy," Aiva Aparjode is convinced, setting an example for many female competitive athletes that it is possible to combine children and top-level sport.
Family tradition continued - Mom as first coach
Kristers sledded for the first time at the age of seven on the artificial ice track in Sigulda. He made three runs from curve 13. Aiva remembers: "But he was scared and that was the end of his sliding at that point". Then in 2010, Aiva became a youth luge coach and she had to put together a group of children. "Of course, I found two candidates at my house :)
That's how Kandy and Kristers started and I was their first coach". Kristers was eleven at the time and Kendija was 13. "At first they were not enthusiastic, especially Kendija. But after they earned and understood, they didn't protest about mom making them go sledding :)", Aiva tells us with a smile.
Two hard years - with many tears
The last two years have been very hard for Aiva and her luge family: "I am very proud of my children because I know how hard they work. I always get over setbacks and injuries, but the last two winters were very hard. The serious injuries of the two, the qualification for the Olympic Games, the Covid-19 pandemic and all that interspersed with great results. In these two years I have cried a lot both out of joy and sadness. We have been through a lot! But I can definitely say that my children are my pride and joy! The best thing that has happened to me in my life is my children! I really hope that next season I will be able to attend competitions and support them in person."
Happy Mother's Day!