Natalia Gart re-elected as President of Russian Luge Federation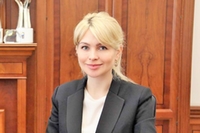 Moscow (RWH) Natalia Gart has been re-elected to her post as President of the Russian Luge Federation, as confirmed by the federation's Secretary General Anna Andreeva in Moscow upon enquiry.
Natalia Gart, who is also a member of the Executive Board at the International Luge Federation (FIL), took over the role from her husband Leonid in summer 2013 after he passed away following a tragic accident in Croatia at the end of June 2013. Natalia Gart's company (GRM Group) also supports the FIL's natural track events as primary sponsor.
During the business woman's time in office, Russia gained its very first Luge World Champion following Semen Pavlichenko's victory in 2015. At the Olympics in the Russian city of Sochi in 2014, Russia won two silver medals, though the country's luge athletes left the Games in PyeongChang (KOR) empty-handed four years later.