Christoph Regensburger (AUT) and Dominik Holzknecht (AUT) long to know again. Three years after the end of their career, the Austrians are returning to the FIL Luge World Cup on natural track. Above all, they focus on the 2021 World Championship in Umhausen (AUT).
Three years ago they had put their luge in the corner and from then on they wanted to take care of other things than natural track luge. "Of course, it has always been itchy, especially last winter when we watched the World Cup here and there," says Christoph Regensburger. They also took part in one or two national races last season.

Now the itching got too big - and Regensburger is ready for the comeback with his partner Dominik Holzknecht. "One of the main reasons, of course, was that the 2021 World Championship in Umhausen. We just want to race at the World Championship in our home village,"Regensburger grins. The two 27-year-olds will of course also compete in the World Cup in doubles.

But what do you expect in your comeback season? "We have to let ourselves be surprised, we can't really assess it at the moment. In any case, we feel fit and have always been active." Regensburger also makes one thing clear: "We are only returning for this season. After that it is finally the end."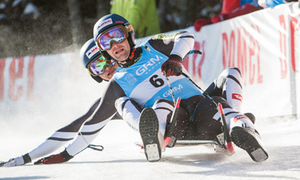 Regensburger/Holzknecht at the 2017 World Cup in Kühtai (AUT)
Regensburger/Holzknecht achieved a total of seven podium places (0/3/4) in their "first" career, they finished the 2014/2015 season in third place in the doubles ranking, and the 2015/2016 season in second place.