Austrian Jonas Müller crowned Sprint World Champion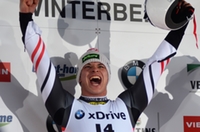 Winterberg (RWH) After Felix Loch (GER) won the debut event in 2016 and Wolfgang Kindl (AUT) triumphed in 2017, Jonas Müller has won this year's Sprint World Championship title. The luger from Vorarlberg, who had never previously made it onto the podium in the Viessmann Luge World Cup, was a surprise gold medallist at the 48th World Championships of the International Luge Federation (FIL) in Winterberg. Silver went to Felix Loch, the two-time Olympic and five-time World Champion in men's singles. Russia's Semen Pavlichenko claimed bronze.
The third Sprint World Championships were staged in Winterberg, following the previous events in 2016 (Königssee) and 2017 (Innsbruck). The competition does not count towards the Olympic programme.