Natalie Geisenberger wins fourth World Championship gold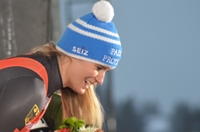 Winterberg (RWH) Germany's Natalie Geisenberger is lining up titles like pearls on a necklace. The Olympic Champion of 2014 and 2018 secured her fourth world title at the 48th World Championships of the International Luge Federation (FIL) in Winterberg (GER). She now moves up to second place in the rankings of the most successful athletes at FIL World Championships. First place is occupied by Tatjana Hüfner (GER / 5 Gold – 1 Silver – 1 Bronze), ahead of Natalie Geisenberger (4 – 1 – 3), Sylke Otto (GER / 4 – 0 – 2) and Margit Schumann (GER / 4 – 0 – 0).
In Winterberg, silver went to Julia Taubitz (GER), who thus clinched her first World Championship medal in an Olympic discipline and a second gold following her 2016 win in the U23 category. America's Emily Sweeney, who had a bad crash at last year's Olympics in PyeongChang, claimed bronze. Record-breaking World Champion Tatjana Hüfner retired from the World Championship stage with tenth place. The 2010 Olympic Champion is calling time on her career after this season to work as a kindergarten teacher in the Germany army.
Quotes
Natalie Geisenberger (GER / 2014 and 2018 Olympic Champion, four-time World Champion)
"Even when you've won as much as I have, you still have to cross the finish line. The race was a lot of fun, even though the loudspeaker failed at the start, but the mood in the finish area is fantastic. I don't let myself get distracted by things like the delayed start on my first run."
Julia Taubitz (GER / Junior World Champion in 2016, U23 World Champion in 2016 and 2019, World Championship silver medallist in 2019)
"I can honestly say I had a few tears in my eyes. I was nervous – it was OK before the first run but got really bad before the second heat. But now I feel great. I wanted to get two medals, now I have three!"
Emily Sweeney (USA, Junior World Champion 2013)
"After training, I knew I was very quick on this track. I've learned a lot this year with the crash in PyeongChang."