Baby Break for Olympic Silver Medallist Dajana Eitberger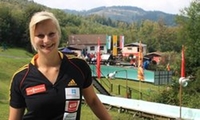 Berchtesgaden (RWH) Germany's Dajana Eitberger, Olympic Silver Medallist of the 2018 Winter Games in PyeongChang, is pregnant and will not compete in the upcoming season. The 28-year-old will give birth to her first child in February 2020. This was announced by the German Federation BSD in a press release published in Berchtesgaden, Germany.
In Spring, Dajana Eitberger moved from Thuringia to Munich, where her boyfriend lives. According to the press release she will pause the 2019/2020 Winter. After the baby break Dajana Eitberger wants to celebrate her comeback in the pre-Olympic season. "I want to compete once more at the Olympic Games 2022", Eitberger was quoted. Even the 2023 World Championships of the International Luge Federation (FIL) in Oberhof is one of her upcoming aims.
At the end of last Winter Germany's Tatjana Hüfner, the 2010 Olympic Champion and six-times World Champion, has announced her retirement.