Beijing 2022 holds first online press conference for domestic and foreign media
Berchtesgaden (FIL) With 24 days to go until the Beijing 2022 Olympic Winter Games, preparations are in the final phase.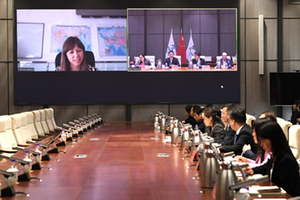 The Beijing Organising Committee for the Olympic and Paralympic Winter Games (Beijing 2022) held its first online press conference on 11 January to present the overall progress of preparations for the 2022 Games in Beijing and to answer questions from domestic and foreign media based in China.
Zhao Weidong, spokesperson and general manager of the Beijing 2022 Media and Communications Department, said Beijing 2022 has worked closely with stakeholders at home and abroad to successfully complete preparations on schedule over the past few years.
The venues and infrastructure have been completed and meet the requirements for hosting the Games. The operation of the venues and competition operations have been continuously optimised. Accommodation, catering, medical care, transport and other services have been fully prepared, and a functioning pandemic prevention system has been established for the host cities and the Games. The command system for the operation of the Games has been fully activated and cross-regional and cross-site command and emergency support capacities have been further enhanced. Preparations for the Games are almost complete. Zhao Weidong also briefed reporters on the Olympic torch relay and preparations for the opening and closing ceremonies.
The press conference was held online for the first time by Beijing 2022 to accommodate both pandemic prevention and the widest possible media participation. This is a bold and innovative attempt to accommodate media interview requests amid extensive pandemic prevention efforts. A total of 129 journalists from 81 news organisations in 22 countries or regions registered to attend the press conference.
Without having to attend the conference on-site, journalists were able to dial in online to ask their questions and interact with Beijing 2022 in real time. This press conference was meant to be a sign to make the Games with an open attitude towards journalists from home and abroad.
Yan Jiarong, Press Officer of Beijing 2022, chaired the press conference. Xu Jicheng, Director General of the Beijing 2022 Media Department, Huang Chun, Deputy Director General of the Pandemic Prevention and Control Bureau, as well as officials from the Sports Department, the Planning and Construction Department, the Paralympic Games Integration Department, the Games Department, the Transportation Department and the Accreditation Centre attended the press conference and answered journalists' questions. Xu Hejian, Director of the Beijing Municipal Government Information Office and Director of the Beijing 2022 Media Centre, also answered questions about services for non-accredited journalists.