Caitlin Nash and Natalie Corless to become first all-female doubles pairing in the Viessmann World Cup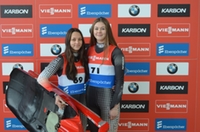 Whistler (RWH) Caitlin Nash and Natalie Corless are set to go down in history as the first all-female doubles pairing in the Viessmann Luge World Cup. The two 16-year-old Canadians finished in 11th place in the Nations Cup qualifier and so will become the first all-female duo in the doubles competition this weekend. Anna Berreiter (GER), Inars Kivlenieks (LAT) and Italy's Emanuel Rieder/Simon Kainzwaldner emerged as the winners of the Nations Cup.
"This is all very exciting for us," said Caitlin Nash. And Natalie Corless adds: "We can gain some valuable experience here." The duo had already entered the history books of the International Luge Federation (FIL) by winning the first women's doubles race in the Junior A category last winter in Park City (USA). The two Canadians have already managed to qualify for the Youth Olympic Games in Lausanne (SUI). The women's doubles race is set to appear on the Olympic programme for the first time on the natural ice track in St. Moritz, the venue for the sliding competitions.
"It's cool," said Tobias Arlt, a two-time Olympic Champion in doubles with partner Tobias Wendl, during training ahead of the women's doubles World Cup debut. "It can only be a good thing. The ladies have really been accepted into the fold. I can only imagine how excited they are."
As a seven year old, Caitlin Nash was inspired by the 2010 Winter Olympics in Vancouver and the luge competitions in her native Whistler. Her partner Natalie Corless grew up bilingual and lived with her parents in several cities in Canada and Europe before moving to Whistler two years ago to form a doubles pairing with Caitlin Nash. The biggest success of their career thus far came last winter when they topped the women's doubles standings in the Junior A class.