The luge brothers Matthias and Patrick Lambacher (ITA) can look back on a brilliant winter, which was crowned with the gold medal in the doubles at the world championships in natural track luge. On Saturday evening there was a champions-party in her home town Villnöß/Funes (ITA).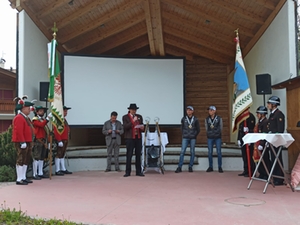 The Schützen (left), Mayor Peter Pernthaler and the Firefighters showed up for Lambacher/Lambacher
Villnöß/Funes (FIL, 08.05.2023) Matthias and Patrick Lambacher won everything there was to win in the past FIL Natural Track Luge worldcup season: They celebrated their first World Cup victory in Winterleiten (AUT), three more followed. In Deutschnofen/Nova Ponente (ITA) the 2020 european champions crowned themselves world champions for the first time and at the finale in Umhausen (AUT) they won the overall victory in the World Cup for the first time.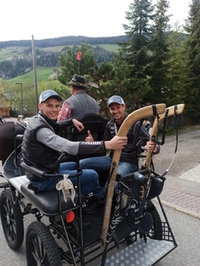 Matthias and Patrick Lambacher on the way to the Bergerplatz
At the atmospheric celebration in Villnöß/Funes, the luge brothers were chauffeured by carriage to Bergerplatz in St. Magdalena, where they were welcomed by Mayor Peter Pernthaler, various clubs from the village, their family and many friends. Among the guests were world champion Alex Gruber (ITA), luge-superstar Patrick Pigneter (ITA), young teammate Jenny Castiglioni (ITA) and snowboard world champion (2015) Roland Fischnaller, who also comes from Villnöß/Funes.
On the fringes of the celebration, however, it was also officially announced that the luge-duo would no longer start in this constellation – at least temporarily. Patrick Lambacher will take at least one winter off for family reasons. He will be replaced by the youngest of the brothers, Peter Lambacher. In the future he will act as the man behind Matthias Lambacher, who will move up one position on the luge. The signs are good that the epic duels Lambacher/Lambacher against Patrick Pigneter/Florian Clara (ITA) will continue in the coming winter: At the South Tyrolean championship in March, Matthias Lambacher/Peter Lambacher landed just 0.03 seconds behind the winner Pigneter/Clara in second place.