At the 70th FIL Congress in Hall in Tirol (AUT) in mid-June, there was a change at the top of the natural track luge and public sledding within the International Luge Federation FIL. Peter Knauseder (AUT) did not stand for re-election for the charge of FIL Vice President Natural Track after eight years. Sorin Buta (ROU) was elected as his successor.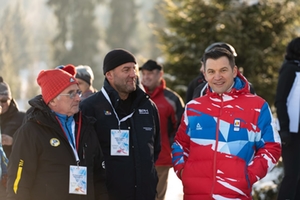 (from left) Peter Knauseder, Sorin Buta and the at that time romanian minister of sports Ionut Stroe at the 2020 World Cup in Vatra Dornei
Peter Knauseder was elected FIL Vice President for natural track at the FIL congress in Innsbruck (AUT) in 2014. Looking back, the past eight years were an exciting time, says Knauseder: "I was able to implement a lot of our program during the two terms of office, if not everything. We were able to firmly position the sport of natural luge in many national federations in their own programs and made a significant contribution to the understanding of natural luge." Knauseder is particularly proud of the sporting level that the athletes have now reached. The development program, which was significantly built up and expanded during his term of office, is clearly bearing fruit. Peter Knauseder will remain involved in luge as President of the Tyrolean Luge Association.
Sorin Buta new Vice-President for natural track and public sledding
The Romanian Sorin Buta will hold the position of FIL Vice President for natural track for the next four years. The 61-year-old has already been an executive member of the FIL for the past two years and is full of energy: "I would like to increase the attractiveness of the natural luge sport, in which new nations are represented with athletes in the World Cup. I could also imagine natural track cooperating with other sporting events, e.g. a biathlon and a luge world cup could be held together in one place. It is important to use synergies." A major task for Buta for the current term of office will also be the expansion public sledding as a mass sport. The new Vice President natural track is looking forward to the FIL World Championships next year in the Romanian winter sports resort of Vatra Dornei with great anticipation.