Chris Mazdzer and wife Mara are happy about son Nicolai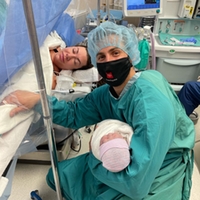 Salt Lake City (FIL) On Thursday 15 April, 2021, little Nicolai Mazdzer was born at St Marks Hospital in Salt Lake City (Utah). Nicolai is the first child for the Mazdzers, married in May 2020.
As 2018 Winter Olympics silver medallist and FIL athlete spokesperson Chris Mazdzer announced on Instagram, his wife Mara was in labor for 35 hours before an emergency cesarean section was necessary.
"It was incredible witnessing the strength of my wife through the entire process and how she handled such a difficult situation under pain, fever and distress," Mazdzer wrote. "I am so fortunate that everyone is safe! Now I need to learn how to swaddle, change diapers and all of the millions of things that need to be done now being a 'parent.'
Originally from Saranac Lake, New York, Chris Mazdzer made history at the PyeongChang 2018 Winter Olympics by becoming the first US American to win an Olympic silver medal in luge. The three-time Olympian won World Championship bronze with the U.S. Team Relay in February 2020 in Sochi (Russia). Mazdzer and Jayson Terdiman were successful in doubles, along with Summer Britcher and Tucker West in the team.
photo: Chris Mazdzer, Instagram