Chris Mazdzer now married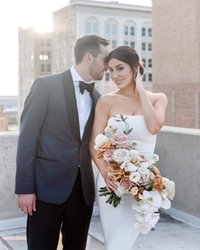 Salt Lake City (RWH) Chris Mazdzer got married. The athletes' representative of the International Luge Federation (FIL) said yes to his fiancée Mara in Salt Lake City, Utah. The couple announced the wedding together with the official photo (Angela Howard Photography) on their Facebook page under the headline "Mr. & Mrs. Mazdzer".
Chris Mazdzer won silver in the men's singles at the 2018 Winter Olympics in PyeongChang (KOR). At the 2020 FIL World Championships in Sochi, Russia, Mazdzer won the bronze medal in the Team Relay together with his doubles partner Jayson Terdiman as well as Summer Britcher and Tucker West.