"Size matters," is the saying when people talk about the benefits of a product. The car has to be big, the TV and the fridge anyway - because big is good. Well, on a closer look this is not (always) true.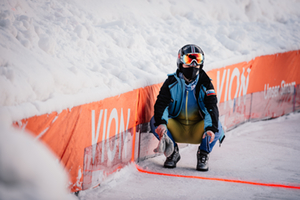 Looks like space: Nusa Subic during FIL World Cup in Laas/Lasa (ITA)
The "small" luge on natural track was able to finish the 2020/2021 season with almost no noteworthy changes. The decision to summarize the racing calendar in blocks was a good one, because this was the only way to guarantee a safe and complete season. With 14 participating nations at the 23rd FIL Luge World Championships on Natural Track in Umhausen (AUT), despite the most difficult conditions, there was a respectable field of participants in comparison with other sports - with Brazil even South America was represented.
The fact that other nations from North America, Asia and Oceania could not start is bitter - especially for the athletes themselves. At the start of the season with the double World Cup in Winterleiten (AUT), the natural track's hygiene concept took effect for the first time: Before the journey to the World Cup, Thomas Kammerlander (AUT) was tested positive - he had to stay at home. It was therefore clear: The protective measures must be strictly adhered to - mask on, keep your distance and test consistently. These new "rules of the game" were strictly adhered to by athletes, supervisors, officials and journalists who were present. The result: in the entire FIL World Cup and same for the FIL Junior World Cup, no athletes, trainers or officials were tested positive. Talking about Junior World Cup: North America was also represented with two athletes from Canada.
Peter Knauseder, Vice President of the International Luge Federation FIL and natural track coordinator, is satisfied. "We didn't have a single corona case in the World Cup bubbles or in any of the four Junior World Cups. For us, the junior area is a very important point, we are one of the few sports that were able to organize a Junior World Cup. "
The 2020/2021 season was definitely not a "normal" season for the natural track. The hope is that the 2021/2022 season will be a normal one - with World Cups in several countries. And especially with spectators on the track. The natural track took on responsibility during these difficult months and turned a supposed weakness into a strength - "small but nice".