Danielle Scott calls time on her career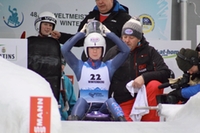 Oberhof (RWH) Britain's Danielle Scott has ended her career with a 23rd place finish at the European Championship of the International Luge federation (FIL) in Oberhof (GER). The 32-year-old is retiring from the army and wants to pursue a career with the fire service. Team GB is coached by Germany's Michael Berger, who took care of Laura Desmond as well. Desmond finished one place behind Scott.
Scott's career-best result was tenth with her teammates Raymond Thompson, Rupert Staudinger/John Paul Kibble at the 48th World Championships in Winterberg in 2019. The qualified nurse finished in 31st place in the women's competition. Scott, who discovered luge during an army training exercise in 2010, finished the 2017 European Championships in 24th place.