Decisive second half of season gets underway in Lillehammer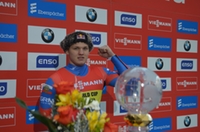 Lillehammer (RWH) The second and decisive half of the luge season is set to get underway at the Viessmann World Cup in the Olympic town of Lillehammer. The fifth round of the racing series will be held on the artificial ice track at Hunderfossen on January 18-29, 2020. The event will also double as the 51st European Championships of the International Luge Federation (FIL), following the America Pacific Championships in Whistler and the Asian Championships in PyeongChang (KOR).
After half of the season's 12 events, Tatyana Ivanova and Roman Repilov (both RUS) lead the overall Viessmann World Cup standings along with the German doubles pairing of Toni Eggert/Sascha Benecken. Russia's three-time European Champion Tatyana Ivanova is just two points ahead of Julia Taubitz (480) going into this weekend's round in Lillehammer. A German luger has won the event every year for the past 21 years. "And I will do everything to maintain that unbroken run," promises Germany's Vice World Champion of 2019.
Although Roman Repilov could only manage 10th in Altenberg, the overall winner of the 2016/2017 World Cup has a comfortable 81-point cushion over his nearest rival. Repilov (466 points) is followed in second place by Sprint World Champion Jonas Müller (385) from Austria, who learned a painful life lesson in Altenberg where he finished dead last after making a mistake on his final run, having been third at the halfway mark. Third in the overall classification is Dominik Fischnaller (350) ahead of Felix Loch (327). The doubles duo of Eggert/Benecken (555) are 84 points clear of their teammates Tobias Wendl/Tobias Arlt (471), who had to settle for seventh in Altenberg. The Austrian pairing of Thomas Steu/Lorenz Koller took victory in Altenberg and now lie third overall.
In Altenberg, the Viessmann Team Relay World Cup presented by BMW ended with the World Champion Russia taking victory ahead of the Olympic Champion Germany and European Champion Italy. After two of six events in the Viessmann Team Relay World Cup, Italy are still at the top of the overall standings on 170 points, having claimed victory in the season opener in Innsbruck. The German team currently lies second overall (155), with Russia in third (146).