Brilliant start into the new year for Italy: Patrick Pigneter / Florian Clara and Patrick Lambacher / Matthias Lambacher celebrated a double victory on the second stage of the Luge World Cup on Natural Track on Friday in Winterleiten (AUT).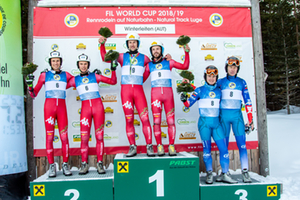 The track in Winterleiten is 1033 meters long and this year the slightly bumpy track is covered with a very fast ice. From the very beginning Pigneter / Clara had the track under control, the Italians drove in both training runs the fastest time. In the race, the Vice-Champions went "all in" and remained in both runs the only team with a time under 1:16 minutes. Pigneter / Clara celebrated their first win of the season ahead of their young team-mates Patrick Lambacher / Matthias Lambacher. For the brothers it´s the first year in the Luge World Cup on Natural Track, in their second competition they have their carreer-fist podium in the books. Third place for Pavel Porshnev / Ivan Lazarev (RUS),they repeated the Kühtai-Podium.

Black Friday for Brüggler / Angerer
A no-day for the winners of the first stage in Kühtai, Rupert Brüggler / Tobias Angerer (AUT). Before the first run, Tobias Angerer caught a lumbago, the local syndrome was immediately treated with massages and analgesics. At the end of the day the World Champions finished on sixth position.
In the overall standings Pigneter / Clara (ITA) took the lead after the second stage with 185 points, followed by Brüggler / Angerer (AUT) with 150 points, third position for Porshnev / Lazarev (RUS) with 140 points.

The training runs in the singles were dominated by Thomas Kammerlander (AUT) and Evelin Lanthaler (ITA). For Saturday the single-competitions are scheduled in Winterleiten, for the detailed program and all further information please see www.fil-luge.com