Dramatic duel in the women's competition: Tatyana Ivanova versus Julia Taubitz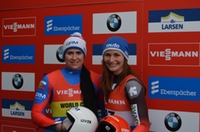 Sochi (RWH) There have been plenty of dramatic duels in the women's competition over the years. The battles between Silke Kraushaar-Pielach and Sylke Otto once dominated the World Championships of the International Luge Federation (FIL), while the contests featuring Tatjana Hüfner and Natalie Geisenberger dominated proceedings in recent years. And if this season's events are anything to go by, the 49th FIL World Championships in Sochi look likely to feature a duel between Tatyana Ivanova (RUS) and Julia Taubitz (GER).
"The duel is fun," says 2019 World Championship silver medallist Julia Taubitz. "I'm not thinking about the duel," says Tatyana Ivanova, who won World Championship silver in 2013 and is at the top of the Viessmann World Cup standings and could accomplish something truly historic. Since 2009 – when Erin Hamlin clinched World Championship gold for the USA in Lake Placid – the World Champion in women's luge has always come from Germany. And on top of that, there has never been a Russian World Champion, as Vera Zozulya's victory in 1978 was for the USSR.
Tatyana Ivanova and Julia Taubitz have won nine out of 10 Viessmann World Cups this season, taking turns to lead the overall standings and ceding victory to another slider on just one occasion. That was in Oberhof where Anna Berreiter (GER) surprised herself and everyone else to claim her maiden victory. The 20-year-old is among the medal contenders alongside Victoria Demchenko, who took a double victory in Sochi during the 2018/19 winter season. Added to the mix is the USA's Summer Britcher, although she is not known for stringing together two consistent runs.
That leaves the hot favorites for the title as Tatyana Ivanova, who is driving more consistently than ever before, and Julia Taubitz, who has seamlessly taken on the vacant role of German team leader\. Natalie Geisenberger and Dajana Eitberger are currently on maternity leave, and record-breaking World Champion Tatjana Hüfner has retired. The 23-year-old does not view her new leadership role as a burden. "I set myself the goal of winning a medal," Julia Taubitz explains. "I try not to pay any attention to external pressure."
Her rival is aware of the historic opportunity at her home track. Ivanova, who is now 28, was also among the favorites in 2014 but could only manage seventh place, although she did go on to win silver in the team relay. The International Olympic Committee (IOC) barred her from competing at the 2018 Winter Games in PyeongChang.
All of that year's medallists (Geisenberger, Eitberger and Canada's Alex Gough) are not competing this time around, and the ladies who finished fourth to sixth (Hüfner, Kimberley McRae (CAN) and US slider Erin Hamlin) have all retired from the sport. The best Olympic athlete from 2018 in the current field is therefore the Romanian Raluca Stramaturaru, who finished seventh in PyeongChang.