EBERSPÄCHER World Cup with 6 Team Relays and 3 BMW Sprint World Cups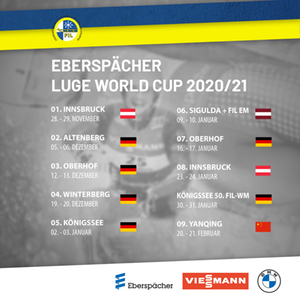 Berchtesgaden (FIL) Special conditions require special measures. In order not to endanger the 43rd World Cup winter of the FIL - during the worldwide pandemic with the corona virus - extensive protective and hygienic measures were decided upon. According to the current state of affairs, there will be no spectators at the tracks. The number of participants, training runs, officials and media was severely restricted. The races will take place almost exclusively in Europe and under strict protection and hygiene measures. But all races will be broadcast on TV and/or can be watched live online.
For the first time the race series will be held as EBERSPÄCHER Luge World Cup. The season opener in Innsbruck (AUT) from November 27 to 29, 2020, will immediately offer a mega program. Besides the four Olympic disciplines Women Singles, Men Singles, Doubles and Team Relay, a decision in the BMW Sprint World Cup (women, men, doubles) is also on the agenda.
Due to the current Covid-19 pandemic and the associated worldwide travel restrictions, the World Cup season will be run exclusively in Europe and the final will be held on the new Olympic track for 2022 near Beijing, in Yanqing (CHN). FIL Sport Director Maria Luise Rainer (ITA) has revised the sports calendar 2020/21. On nine World Cup weekends, a total of six competitions will be held in the EBERSPÄCHER Team Relay World Cup presented by BMW as well as three BMW Sprint World Cups.
In addition to Innsbruck, Winterberg (GER) and Innsbruck 2 (AUT) are the venues for BMW Sprint World Cups. Besides Innsbruck, Altenberg, Oberhof 1 (both GER), Sigulda (LAT), Königssee (GER) and the next Olympic host in Yanqing (CHN) have been entrusted with the organization of an EBERSPÄCHER Team Relay World Cup presented by BMW. The final of the EBERSPÄCHER World Cup Series will take place in China from February 19 to 21, 2021.
The highlight of the season will be the 50th FIL Luge World Championships, which will take place from January 29 to 31, 2021, at Berchtesgaden-Königssee, Bavaria.