Eggert/Benecken are new Sprint World Champions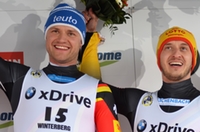 Winterberg (RWH) Toni Eggert and Sascha Benecken are the new Sprint World Champions in doubles. At the 48th World Championships of the International Luge Federation (FIL) in Winterberg, the Olympic bronze medallists took victory ahead of their German teammates and defending champions Tobias Wendl/Tobias Arlt. Eggert/Benecken won by twelve thousandths of a second over the two-time Sprint World Champions. Third place went to Austrians Thomas Steu/Lorenz Koller, who were just five thousandths of a second shy of taking second place.
The third Sprint World Championships were staged in Winterberg, following the previous events in 2016 (Königssee) and 2017 (Innsbruck). The competition does not count towards the Olympic programme.