Einars Fogelis and Dwight Bell represent FIL in Tokyo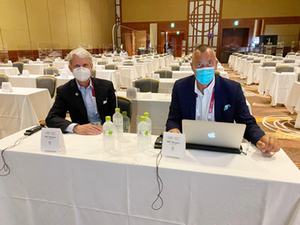 Tokyo (FIL) FIL President Einars Fogelis and Secretary General Dwight Bell represented the Sport of Luge at the 138th Session of the International Olympic Committee (IOC) in Tokyo (JAP) on July 20 and 21, 2021.
Key news from the Beijing 2022, Paris 2024, Milan Cortina 2026 and LA 2028 Organizing Committees, among others, were presented.
With less than 200 days to go the Beijing delegation has presented its progress toward hosting the Games. A major milestone for Beijing 2022 is the completion of the 22 competition venues, all of which have now passed homologation tests. The Olympic Village and International Broadcast Centre were also recently completed and construction of the remaining infrastructure is expected to be completed this year.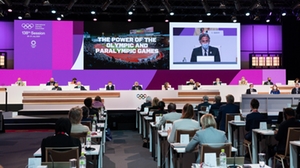 The Beijing 2022 team explained that the next key period will be between September and December, when ten test events and three training weeks will take place. As part of the preparations, officials outlined their commitment to health and safety, pointing to their close collaboration with international and local scientific and health experts and organizations.
In the coming months, Beijing 2022 plans to refine its volunteer program, for which more than 1.1 million people have applied so far. The organizing committee will also continue its winter sports action program, which has held more than 300 public events in recent months, reaching nearly 100 million people. The organizing committee is thus well on its way to attracting more than 300 million people to winter sports by the end of the Winter Olympics in 2022.