Ekaterina Katnikova wins World Championship title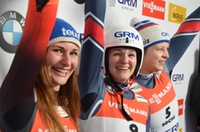 Sochi (RWH) Ekaterina Katnikova has been crowned Russia's first World Champion in women's luge. After winning gold in the sprint 24 hours earlier, the 25-year-old seized her opportunity at the 49th World Championships of the International Luge Federation (FIL) in Sochi, Russia. Silver went to Julia Taubitz (GER), while Viktoriia Demchenko (RUS) took bronze.
Vera Zozulya won the 1978 world title for the former USSR. Today's win for Katnikova also ended the German women's winning streak – they had claimed every World Championship title since 2011. In 2009 Erin Hamlin was the first US female slider to win World Championship gold.
In the absence of defending champion Natalie Geisenberger, who, like Olympic silver medallist Dajana Eitberger, is taking time out to have a baby, Germany's representative Julia Taubitz was fourth after the first run and then went on to set the best time on her second attempt. The much-anticipated duel between Tatyana Ivanova (RUS) and Taubitz, who have won nine of ten events so far in the Viessmann Luge World Cup, failed to live up to its billing. Russia's four-time European Champion Ivanova could manage no higher than 13th on the first run and finished fifth overall. Eliza Cauce from Latvia was third at half-time but dropped back to 14th place after a botched second run.
Quotes
Ekaterina Katnikova (RUS / World Champion 2020 and Sprint World Champion 2020)
"After the sprint victory, this came really naturally. I think I need more time to come to terms with it all – it will probably be Monday before I can deal with it. At the moment I'm just speechless."
Julia Taubitz (GER / World Championship runner-up 2019, World Championship Sprint silver medallist 2019)
"I'm over the moon. Fourth after the first run wasn't great. I said to myself before the second run I wouldn't be fourth again. Either I'll take the lead or I'll drop back. So you give it everything, even if it means you might hit the sides. This silver medal is more special than last year's because I had such a difficult time in training."