Erin Hamlin Selected as ­Team USA's Flag Bearer for PyeongChang 2018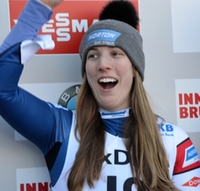 PyeongChang (RWH) Big Honor for Erin Hamlin: The four-time Olympian and 2014 Olympic bronze medalist, has been selected as Team USA's flag bearer for the Opening Ceremony of the Olympic Winter Games PyeongChang 2018, the United States Olympic Committee announced today. The Opening Ceremony will take place Friday, Feb. 9 at PyeongChang Olympic Stadium. Hamlin was chosen by a vote of fellow Team USA members.
Hamlin will become the fourth luger to serve as U.S. flag bearer, and the first since 2010. Frank Masley had the honor in 1980, while with Cameron Myler and Mark Grimmette following in 1994 and 2010, respectively.
A two-time world champion, Hamlin made history at the Olympic Winter Games Sochi 2014 when she became the first U.S. athlete to win an Olympic singles luge medal in the sport's 50-year Olympic history.