Extensive workload at the FIL Executive Board's autumn conference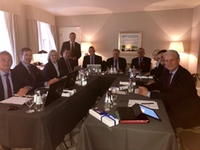 Riga (RWH) The Executive Board of the International Luge Federation (FIL) worked through an extensive agenda at its autumn conference in Latvian capital Riga. The agenda included preparing for the forthcoming season by appointing the procedure of the election of athletes' spokespersons (artificial and natural track), allocating the FIL bonuses and awarding various contracts, and analysing the decisions by the International Olympic Committee (IOC), which rejected all of the FIL's proposals for inclusion in the 2022 Summer Olympics. On this subject, the FIL Executive Board is drawing up an information letter with conclusions and remarks for the member associations.
A joint event with the International Bobsleigh & Skeleton Federation (IBSF) was also discussed. The matter is due to be discussed further with all stakeholders. The FIL Executive Board also appointed additional members to the various committees.