Felix Loch claims sixth title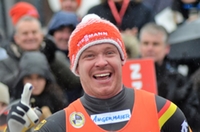 Winterberg (RWH) Germany's Felix Loch has clinched his sixth World Championship title. The two-time Olympic Champion in the men's singles won his sixth World Championship gold at the 48th World Championships of the International Luge Federation (FIL) in Winterberg. Four of his medals have come on German tracks in Oberhof (2008), Altenberg (2012), Königssee (2016) and now in the Hochsauerland.
Loch has closed the gap to record-breaking champion Armin Zöggeler of Italy, who also won six titles but also secured three silver and one bronze. Loch has won two World Championship silver medals, in Cesana (ITA) in 2011, Zöggeler's last title win, and in Sigulda in 2015.
Russia's Semen Pavlichenko won bronze behind silver medallist Reinhard Egger who ensured a happy ending for Austria's lugers who had experienced a spot of bad luck in Winterberg.
Jonas Müller, the newly crowned Sprint World Champion, lost any chance of a medal on his first run when he crashed in the Labyrinth section. His compatriot and Olympic Champion David Gleirscher was disqualified because the wrong sled was presented and inspected in the control zone prior to his first run. A protest lodged by the Austrian team was rejected by the international jury chaired by the USA's Mark Grimmette.
Quotes
Felix Loch (GER / 2010 and 2014 Olympic Champion, six-time World Champion)
"This is crazy after the season I've had. It's amazing, silver in the sprint and now gold. It's unbelievable. We got everything right. The whole team worked together brilliantly."
Semen Pavlichenko (RUS / World Champion 2015, three-time European Champion)
"I'm happy with the bronze medal. I had hoped for more, but I was probably too preoccupied with the weather. Felix deserved to win."
Reinhard Egger (AUT / World Championship silver medallist 2019)
"I know I'm lagging behind my teammates. We joked yesterday that David is the Olympic gold medallist, Wolfi Kindl was World Champion in 2017 and Jonas is the new Sprint World Champion. So now it's my turn. But silver is a good reward for all the hard work. It's as if a switch has been flipped. Even if you don't do much differently, everything suddenly works."