FIL attended WADA World Conference on Doping in Sport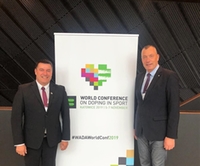 Katowice (RWH) The World Anti-Doping Agency (WADA) welcomed the clean sport community to Katowice, Poland, for its fifth World Conference on Doping in Sport from November 5-7. Among the more than 1,600 representatives were on behalf of the International Luge Federation (FIL) General Secretary Einars Fogelis and Executive Director Christoph Schweiger.
One of the main topics of the 2019 WADA World Conference were the 2021 World Anti-Doping Code and International Standards. Both were subject of a two-year review process. International Olympic Committee (IOC) President Thomas Bach announced a commitment of USD 10 million by the IOC to support a four-point action plan aimed at strengthening the fight against doping. The plan includes the storage of pre-Games testing samples for 10 years, further scientific research, strengthening the investigative powers of WADA and new genetic sequencing anti-doping tests.