FIL celebrates 30-year partnership with Uvex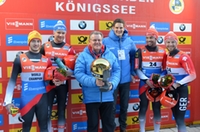 Berchtesgaden (RWH) The President of the International Luge Federation (FIL), Germany's Josef Fendt, has presented a commemorative gift at the Viessmann Luge World Cup in Königssee to mark the federation's 30-year partnership with Uvex. President Fendt presented the gift to Lars Birnbaum, Head of Sports Marketing at Uvex, at the flower ceremony following the doubles race.
Uvex has been the exclusive supplier of helmets and visors to FIL athletes for 30 years, and also provides an annual bonus package for the most successful lugers in the World Cup, World Championships and Olympic Winter Games. Fendt himself was responsible for initiating the partnership in the late 1980s in his former role as FIL Vice President for Sport.
In addition to the best lugers in the world, more than 1,000 top athletes place their trust in the family company from Fürth as they compete to be the best in their respective sports. They include major stars such as alpine ski racers Victoria Rebenburg, Felix Neureuther and Bernadette Schild (AUT), Rosi Mittermaier, and horse riders Isabell Werth (dressage) and Ingrid Klimke (eventing). "uvex sports" supplies premium products for cycling, riding and winter sports, and has also made a name for itself with a comprehensive range of promotional activities in winter sports and cycling worldwide. The company from Fürth celebrated its 90th anniversary with a special exhibition in summer 2016.