FIL draws positive verdict following ITW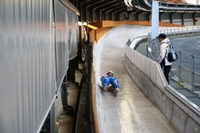 PyeongChang (RWH): The International Luge Federation (FIL) has reported a positive verdict, even before the International Training Week (ITW) on the future Olympic track in PyeongChang (KOR) has officially finished. "Everything went great," said Claire DelNegro (USA), Vice President for Sport at FIL, from PyeongChang.
Around 90 days before the official opening celebration on 9 February 2018, a total of 29 national bodies from the FIL travelled to the Alpensia Sliding Centre with over 150 athletes to make the most of the only chance to train ahead of the Winter Games. Over 3,000 problem-free runs were conducted in the period up to 9 November. A team relay event is planned to bring the ITW to a close on 11 November with 27 squads registered to take part.