FIL Executive Board awards Women's Doubles World Championships to Winterberg, World Cup with Juniors
Zurich (FIL) During the FIL Executive Board meetings on June 17 and 18, 2021 in Zurich (SUI), it was decided that for the new, non-Olympic discipline of women's doubles on artificial track, there will be World Championships in the General Class for the first time in the coming winter. The first Women's Doubles World Championships will be held on Sunday, January 30, 2022 in Winterberg (GER), following the 37th Junior World Championships (January 28-29).
The General Class women will race their doubles World Cups in the pre-Olympic winter in race-in-race mode at the Junior World Cups. There will be six World Cups in three countries.
Due to the Covid-19 pandemic and the partial travel and quarantine regulations of some countries, the Olympic qualification for Beijing 2022 will be extended until January 9, 2022, and will be completed only after the seventh World Cup in Sigulda, Latvia. In previous Olympic winters, the qualification phase ran over two winters and was thus already completed by the Christmas break in mid-December.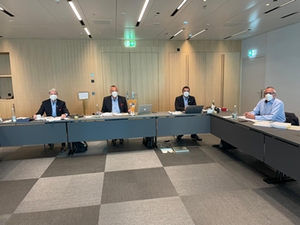 All proposals from the Technical Commission, which met in Vienna (AUT) on May 15, regarding standard sleds for women's doubles and the gradual standardization, norming and certification of components for men's doubles, were confirmed by the Executive Board. FIL President Einars Fogelis commented: "We are aware that we will gradually make a serious intervention in our sled technology. In order to ensure the goals of easier learnability of our sport, higher safety and equal access to suitable sled material for all nations, we will not be able to avoid this standardization and certification in the long run."
All FIL working groups that worked on the development of the new strategic plan "SLIDE 2026" and their proposals, were confirmed by the FIL Executive Board. For the implementation of the new strategic plan there were work assignments already until the FIL Congress in September 2021. The Congress will take place on September 24 and 25, 2021 in Salzburg (AUT).