FIL Executive Board meets on September 15-16 in Vienna
Vienna (FIL/16 Sept 2023) On Friday, September 15 and Saturday, September 16, the members of the FIL Executive Board met in the Austrian capital Vienna. Current topics were discussed and decisions were made.
Besides the report of President Einars Fogelis (LAT) and the first financial report of the new Vice President Finance Geoff Balme (NZL), several decisions were on the agenda. There were votes on the athletes' bonuses, the location of the 2024 Congress and the other dates and locations for the upcoming meetings.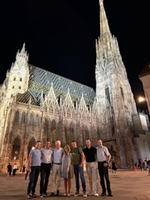 Furthermore, the Athlete Development Program and the coaching situation in artificial and natural track luge were discussed. The report of the FIL Director for the Development Program, Fred Zimny, was discussed.
FIL Secretary General Dwight Bell reported on the development of TV production and the FIL Studio as a second luge channel as well as on the new TV graphics in artificial track luge.
FIL Vice President Sport Claire DelNegro and Executive Director Christoph Schweiger spoke about the organization and implementation of the Gangwon 2024 Youth Olympic Winter Games in January in South Korea.
FIL President Einars Fogelis and Vice President Marketing Thomas Schwab spoke about an e-sports strategy.