FIL Gold Medal of Honor for Peter Knauseder, Atis Strenga and Norbert Hiedl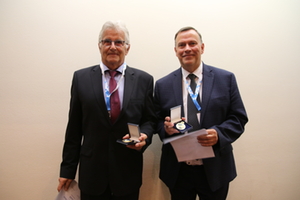 Hall (FIL) Austria's Peter Knauseder, Atis Strenga from Latvia and Norbert Hiedl (Germany) were awarded the Gold Medal of Honor of the International Luge Federation (FIL) at the 70th FIL Congress in Austria.
In recognition of their many years of service to the sport of luge, FIL President Einars Fogelis together with Vice President for Finance Harald Steyrer presented the awards on Saturday, June 18 in Hall in Tyrol.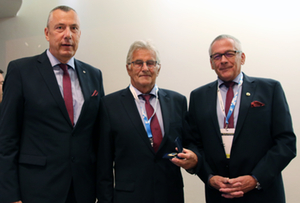 As Vice President for Natural Track Luge, Peter Knauseder has been an Executive Member of the FIL since 2014. Prior to that, the Tyrolean was active for decades as an organizer of international artificial track events in Innsbruck-Igls and was a member of the FIL Sport Commission for Artificial Track from 1986 to 1992.
Atis Strenga is President of the Luge Federation of Latvia and was active for many years in the FIL Sport Commission, jury member or jury chairman at Olympic Winter Games, World and European Championships as well as in the organization of the FIL luge competitions in Sigulda.
The third gold medal will be awarded to Norbert Hiedl (GER) for his work as Chairman of the FIL Court of Arbitration since 1996, FIL Ethics Officer since the year 2017 and main responsible for the drafting and preparation of the FIL Code of Ethics. Norbert Hiedl will be presented with the FIL Medal later. He was not personally present at the FIL Congress in Hall.
The silver award was given to Bibi Walden and Bo Näsström (both SWE), Volodymyr Vakhrushev (UKR), Sandris Berzins (LAT).
Taras Hartsula (UKR), Bogdan Macovei (MDA), Normunds Kotans (LAT), Miroslav Jelen (CZE), Thomas Kirsten (GER), Norbert Gatz (GER/posthumous), Zenon Chornomidze, Svitlana Zhydkova, Anatoliy Malyshchyk, Valentin Paperovyy (all four UKR) and Zhang Xudong (CHN) were awarded the Bronze Badge of Honor.
The personalities not present at the FIL Congress will receive their honorary pins in person at a later date.