FIL mourns the death of honorary member Baron Falz-Fein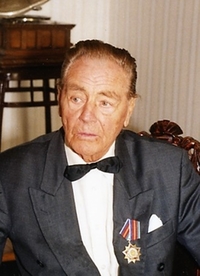 Vaduz/Liechtenstein (RWH) The Internationale Luge Federation (FIL) mourns the death of of honorary member Baron Eduard Alexandrowitsch von Falz-Fein. Two months after September 14 when the Russian aristocrat celebrated his 106th birthday, he died due to a tragic accident at his "Villa Askania Nova" at Vaduz, Liechtenstein, last Saturday (November 17). This was now published by Günter Beck, President of the Luge Federation of Liechtenstein.
"The International Luge Federation hast lost a close friend, who has left his own marks. Not only for the sphere of the FIL, but far beyond. Our compassion goes to his family," FIL President Josef Fendt of Germany said.
"Emigrant, playboy, sportsman, businessman, patron." These words were used Prince Nikita Lobanov-Rostowski in the past to characterize his friend Falz-Fein.
Baron Falz-Fein who has been an honorary member of the FIL since 1978 and was one of the most important pioneers for the inclusion of luge into the Olympic program looks back on a long and eventful life. He became the treasurer of the FIL in 1962 and managed the finances of the international federation for 15 years. Even after he stepped down, he was a frequent and welcome guest at FIL congresses.
The Russian aristocrat has been awarded numerous honors over the course of his life. The International Olympic Committee (IOC) awarded him the Olympic Order and the Pierre de Coubertin medal; Russia honored him with the Pushkin medal, and the Royal Government of his chosen homeland awarded him with the Golden Laurel of Liechtenstein.