FIL mourns the death of Patrick Baumann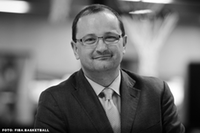 Buenos Aires (RWH) The International Luge Federation (FIL) mourns the death of Patrick Baumann. The 51-years-old Swiss, one of the most influential officials in world sport, has died while attending the Youth Olympic Games in Buenos Aires (ARG). The member of the International Olympic Committee (IOC), passed away following a heart attack. This was published by the IOC in Buenos Aires.
IOC President Thomas Bach called the news a "great shock". He has asked for the Olympic flag to be flown at half-mast at the IOC headquarters in Lausanne and at Buenos Aires 2018 for three days. The IOC also hold a memorial in the Youth Olympic Village.
The FIL worked together very close with Patrick Baumann, who was the head of the organizing committee of the 2020 Youth Olympic Winter Games in Lausanne. Baumann, father of two children, headed the Global Association of International Sports Federations (GAISF) as well.