FIL now offers two international race series for young luge talents

Berchtesgaden (FIL) The Executive Board of the International Luge Federation, FIL, introduces a second Junior series in artificial track luge with the new Continental Cup - besides the Junior World Cup.
From the 2022/23 season, there will be Continental Cups for the Youth A class and World Cups and World Championships for the Juniors. Due to the large number of participants in the FIL Junior and Youth World Cup series, which used to be held together, the separation into two completely different international series became necessary.
For the juniors, who may not exceed the age of 21 in 2023, there will be six Junior World Cups in the coming winter of 2022/2023 and, as the season's highlight, the 38th FIL Junior World Championships from January 10 to 15, 2023, on the 2021 new opened track in Bludenz (AUT).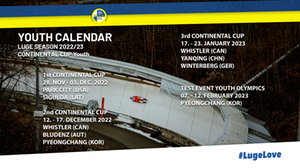 The Luge Youth A, which mainly consists of potential candidates for the 2024 Youth Olympic Games (YOG) in PyeongChang, Korea, in the age group between 15 up to 18 years, will compete in a newly introduced Continental Cup series on three continents (Europe, America and Asia).
In this way, the Luge Youth can secure points for the series via the Continental Cup and ultimately qualify for the Youth Olympic Games (YOG 2024) in Korea.
Racing calendar of the International Luge Federation as a PDF https://www.fil-luge.org/en/racing-schedule-as-pdf