FIL Olympic clothing from GTS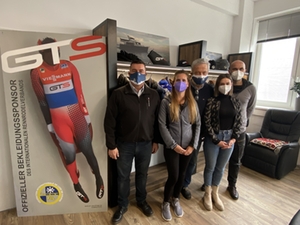 Linz (FIL) During a visit to the TEXSPO company in Linz (Austria), the selection of FIL uniforms for the 2021/22 Olympic season was made.

Managing Director Peter Gerhofer and his employees Stefan Brüglhuber and Marlene Aichinger convinced with perfect advice and a conclusive concept in terms of functionality and design. The clothing selections were followed by a tour of the central warehouse.

GTS has been the official clothing supplier of the FIL since the 2018/19 season. CEO Peter Gerhofer was very satisfied with the cooperation: "In the future, we want to intensify the joint external communication via the social media platforms".

The national teams of Great Britain and Latvia are also equipped by GTS.

In the photo from left to right: Christoph Schweiger, Anja Fischer, Peter Gerhofer, Marlene Aichinger and Stefan Brüglhuber.