FIL President Fendt: no women's doubles competitions in the Olympic winter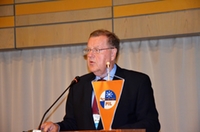 St. Leonhard (RWH) President of the International Luge Federation (FIL), Josef Fendt from Germany, has described the introduction of an additional women's doubles competition at the 2020 Youth Olympic Games in Lausanne, Switzerland, as "a new challenge". Speaking at the organisers' meeting in St. Leonhard near Salzburg (AUT), Fendt confirmed that the IOC was keen to establish equality between the sexes in terms of the number of participants in Olympic Games. At the 2020 Youth Games, medals will be awarded in five FIL disciplines for the first time (women's singles, men's singles, men's doubles, women's doubles, and team relay).
Fendt confirmed that there will be no women's doubles races this coming winter, not even in the junior events."Our specialists in the technology and sporting commissions will be getting together to find save and proper solutions for the women's doubles competetion ," explained Fendt.