FIL submits full package of events for Olympic bid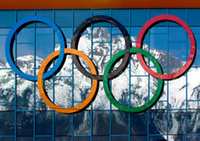 Berchtesgaden (RWH): The International Luge Federation (FIL) is submitting a full package of events to be added to the programme for the 2022 Winter Olympics in Beijing, China. The package will be presented to the International Olympic Committee (IOC) for approval. The FIL Executive Board put together the collection of prospective events at its most recent meeting in its new premises in Berchtesgaden (GER).
In addition to events on a natural track (women's and men's), the package also includes a women's doubles competition on the artificial track, an event which is already set to receive its Olympic premiere at the Youth Olympic Games in Lausanne (SUI) in 2020. Furthermore, the association is eager to introduce the sprint disciplines (women's, men's, women's doubles and men's doubles) to the Olympic stage. A decision on the package is expected to take place in the coming year.
The women's doubles event is currently not one of the FIL's competitive disciplines. However, the IOC added it to the programme for the Youth Olympics for reasons of gender equality. The IOC's aim is to ensure that an equal number of men and women have the opportunity to compete in all Olympic sports.