First EBERSPÄCHER Luge World Cup in Innsbruck cancelled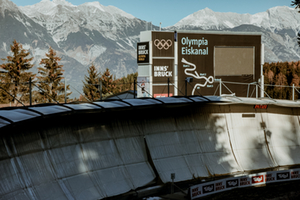 Berchtesgaden (FIL) The International Luge Federation, FIL recently received the final information that the 1st EBERSPÄCHER Luge World Cup of the 2022/2023 season, which was scheduled to take place in Innsbruck (AUT) on the weekend of November 26 and 27, 2022, will not be televised. The November 2022 event in Innsbruck (AUT) will hardly be able to be broadcasted on television live due to the FIFA World Cup in Qatar, which commences 21 November.
Therefore, the FIL Executive Board intends to revise the Luge World Cup calendar. The exact date and venue of the missing World Cup will be announced as soon as possible.
The following eight World Cups and the season's highlight with the 51st FIL World Championships in Oberhof (GER) have been scheduled. Another World Cup weekend will be fixed as soon as possible:
EBERSPÄCHER World Cup INNSBRUCK (AUT), 02. - 04. DECEMBER
EBERSPÄCHER World Cup WHISTLER (CAN), 09. - 11. DECEMBER
EBERSPÄCHER World Cup PARK CITY (USA), 15. - 17. DECEMBER
EBERSPÄCHER World Cup SIGULDA (LAT), 06 - 08 JANUARY
EBERSPÄCHER World Cup & 54th FIL EM LILLEHAMMER (NOR), 13 - 15 Jan.
51st World Championships 2023 OBERHOF (GER), 27 - 29 JANUARY
EBERSPÄCHER World Cup ALTENBERG (GER), 03. - 05. FEBRUARY
EBERSPÄCHER World Cup WINTERBERG (GER), 10 - 12 FEBRUARY
EBERSPÄCHER World Cup ST. MORITZ (SUI), 17 - 19 FEBRUARY