Former European Champion Leonhard Nagenrauft dies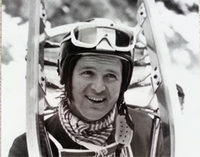 Berchtesgaden (RWH) The International Luge Federation (FIL) and its President Josef Fendt are mourning the loss of Leonhard Nagenrauft. The 1967 European Championship, World Championship silver medallist in 1971, and long-time friend of Fendt (World Champion in 1970 and 1974) passed away on 22 May 2017 at the age of 79 at his home near Berchtesgaden. Nagenrauft competed in two Winter Olympics, taking ninth (Grenoble/FRA) and fifth (Sapporo/JAP). He was a five-time German Champion, including one doubles title with partner Hans Wimmer.
The cremation will take place on 6 June 2017 (10:00 a.m.) in the Alter Friedhof cemetery in Berchtesgaden. The church service begins at 9:00 a.m. in the Berchtesgaden Pfarrkirche.