German quartet defends European Championship title in team relay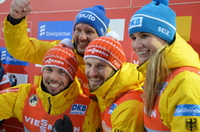 Königssee (RWH) The German quartet has successfully defended its European Championship luge title in the team relay. Natalie Geisenberger, Ralf Palik and Tobias Wendl/Tobias Arlt, the protégés of head coach Norbert Loch, took victory in the Viessmann Team Relay World Cup presented by BMW, which also doubled as the 48th European Championships of the International Luge Federation (FIL).
European Championship silver went to the Austrian squad of Miriam Kastlunger, Wolfgang Kindl, Thomas Steu and Lorenz Koller. The Latvian quartet featuring Eliza Cauce, Arturs Darznieks and Andris Sics/Juris Sics finished third to take European bronze.
The US team of Erin Hamlin, Tucker West and Matt Mortensen/Jayson Terdiman took second place in the World Cup. The Canadian quartet of Alex Gough, Mitchel Malyk, Tristan Walker and Justin Snith finished fourth.
A record 15 teams took part in the competition just one day before the team relay celebrates its tenth anniversary, having made its debut on 7 January 2007.
Canada now leads the overall standings of the Viessmann Team Relay World Cup presented by BMW on 160 points, ahead of the USA (155), and the German squad (146).
The sixth Viessmann World Cup of the season will be held on the artificial ice track in the Latvian town of Sigulda from 14-15 January 2017. The itinerary in Sigulda will feature all seven World Championship events, just 14 days ahead of the main event of the season, the FIL World Championships on the Olympic ice track in Innsbruck, Austria (26-29 January 2017). In addition to the men's, women's, doubles and team relay Olympic disciplines, the three BMW Sprint World Cup races are also on the agenda.