German quartet wins in Altenberg to secure overall victory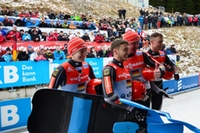 Altenberg (RWH) The German quartet has taken its third win of the season to clinch overall victory in the Viessmann Team Relay World Cup presented by BMW. The protégés of head coach Norbert Loch also won the European Championship title. The host team featuring Tatjana Hüfner, Felix Loch and Toni Eggert/Sascha Benecken took victory ahead of the Canadian team of Kimberley McRae, Mitchel Malyk and Tristan Walker/Justin Snith in Altenberg. The Latvian team of Eliza Cauce, Arturs Darznieks and Andris Sics/Juris Sics finished third.
In the European Championships, silver went to Latvia and bronze went to the Russian team featuring Tatiana Ivanova, Roman Repilov and Alexandr Denisyev/Vladislav Antonov.
The Germans now have 431 points in the overall standings, giving them an unassailable lead over Latvia (325 points) ahead of the sixth round at the season finale in Winterberg next weekend. The US team, which finished sixth in Altenberg, holds third pace overall on 320 points.