Germany's Titles to Julia Taubitz, Ludwig and Eggert/Benecken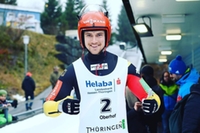 Oberhof (RWH) Local heroes have dominated the German Championships. On the artificial track of Oberhof, Julia Taubitz, Johannes Ludwig and Toni Eggert/Sascha Benecken secured the national titles. Julia Taubitz, 2019 silver medallist at the World Championships, and Johannes Ludwig, 2018 Olympic bronze medallist, won their first national title, Eggert/Benecken for the fourth time have been winner of Germany's Championships.
Ludwig relegated his team-mate Sebastian Bley and Felix Loch to second and third place. Julia Taubitz was followed by Anna Berreiter and Jessica Tiebel. Eggert/Benecken captured the title ahead of Tobias Wendl/Tobias Arlt, the two-time Olympic Champions, and Robin Geueke/David Gamm.