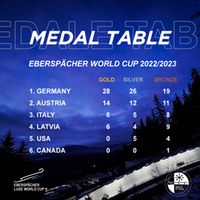 Germany wins medal table – Austria, Italy, Latvia and USA strong at World Cups
Salzburg (FIL/14 March 2023) The 2023 World Championship's season and the 2022/2023 EBERSPÄCHER World Cup brought World Championship's medals for four nations (Germany, Austria, Italy and Latvia) and World Cup medals for six teams.
The leader in the medal table is Germany. Head coach Norbert Loch's team won 28 gold medals in the World Cup and eight at the home World Championships in Oberhof. But the title of the World Champion in the top discipline, the men's singles, went to Austria with Jonas Müller. Austria won eight World Championship's medals and 14 times gold in the EBERSPÄCHER World Cup.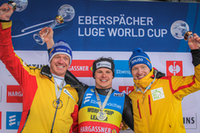 The overall men's World Cup was won by Dominik Fischnaller from Italy. His compatriots Andrea Vötter and Marion Oberhofer secured the big JOSKA crystal globe in women's doubles. Two World Championship's medals and a total of 19 podium places in the EBERSPÄCHER World Cup were won by the team around the technical director 3-times Olympic Champion Armin Zöggeler and his head coach Olympic Champion Kurt Brugger. This puts Italy in third place in the medal table, just ahead of Latvia, which also won six gold medals in the World Cup but only four silver and impressive nine bronze in the EBERSPÄCHER series.
Team USA is strong at the start in men's singles and impressed with podium finishes with the team and the women in singles and doubles. A total of nine World Cup medals were won by the U.S. luge athletes. In the EBERSPÄCHER Team Relay World Cup presented by BMW, the US team finished on 4th place overall and was narrowly beaten by the favored Austrians at the end. Canada started with its young team in only five of nine World Cup stations and won bronze with its young women's doubles team on its home track in Whistler.