Harald Steyrer now honorary member and holder of the FIL Medal of Honor in Diamond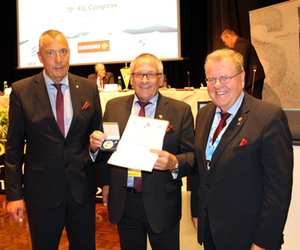 Hall (FIL) At the end of the first day of the Congress in Hall in Tyrol, another special honor took place for Harald Steyrer. The long-time Vice President for Finance was appointed Honorary Member of the FIL and received the highest FIL award with the Decoration of Honor in Gold with Diamond. Only Honorary President Josef Fendt and the long-time Secretary General Svein Romstad are currently holders of this highest award.
FIL Honorary President Josef Fendt acted as laudator for Harald Steyrer and said: "In the function of Chief Financial Officer in an Olympic Sports World Federation, trust and expertise are an important basis. You have demonstrated both again and again all these years in our close cooperation."
Harald Steyrer has been the Chief Financial Officer of the International Luge Federation, FIL, for 26 years. The Austrian was first elected Vice President Finance at the 45th FIL Congress in Olympia, Greece, in 1996 and held this office until June 19, 2022. At the FIL Anniversary Congress, the 68-year-old will not stand for re-election at his own request.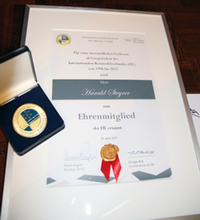 Last financial report of Harald Steyrer: Draft budget 2022/23 adopted
With the resolution of the draft budget for the 2022/23 season and the likewise unanimous approval of the 2021/22 financial report at the 70th FIL Congress in Hall in Tyrol, FIL Vice President Harald Steyrer said farewell to his office.
Standing ovations and applause from the Congress
Harald Steyrer (AUT) will refrain from a renewed candidacy as Vice President Finance on Sunday, June 19, 2022. The 68-year-old long-time FIL Chief Financial Officer is no longer available at his own request for reasons of age. At the 45th Congress of the International Luge Federation, held in Olympia, Greece, in 1996, the Austrian was elected FIL Vice President Finance as successor to Helmut Ganster, who died in 1995. The delegates at the 70th FIL Congress in Hall (AUT) thanked Harald Steyrer with a standing ovation and applause for his many years of service as Vice President Finance.