HARGASSNER is the new main sponsor of the EBERSPÄCHER Luge World Cup Series
Berchtesgaden (FIL) The Austrian biomass specialist HARGASSNER will take over the main sponsorship of the EBERSPÄCHER Luge World Cup Series from the International Luge Federation FIL for the 2021/22 season.
Thus, in addition to title sponsor EBERSPÄCHER, HARGASSNER and BMW will present themselves as main sponsors of the FIL at the World Cup tracks in the upcoming World Cup winter.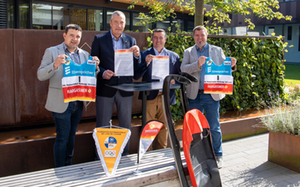 FIL President Einars Fogelis is very pleased about the partnership: "The support of winter sports has a long tradition at HARGASSNER. HARGASSNER has been an active sponsor of both the Austrian Ski Jumping Team and the FIS Alpine Skiing World Cup for many years. We are very pleased that the biomass specialist is expanding its strategic, international sponsorship together with us in the sport of luge."
In recent years, the family-run company HARGASSNER has developed into a global player in the international biomass heating sector with over 130,000 satisfied customers. With more than 650 employees, HARGASSNER has a production capacity of almost 20,000 heaters and sells pellet, wood chip and log wood heaters in over 43 countries worldwide. The closeness to nature, the absolute precision in choosing the right line and the dynamics of the sport are elements that not only connect the sport of tobogganing and the HARGASSNER company, but also drive it forward. HARGASSNER biomass heaters are environmentally friendly, CO 2 -neutral and ensure - especially in winter - a pleasant feel-good climate within your own four walls. A climate that can be transported into the homes of TV viewers, especially through winter sports such as luge.
"Strategic sports sponsoring is an important building block in our marketing mix and not only strengthens our brand awareness at home and abroad, but also supports our dealers and partners on the market with the additional increase in reach," says owner & managing director Anton Hargassner jr.
"Our sponsoring partners are not only "partners" for us on paper! We integrate them into the HARGASSNER family and are happy about the mutual support and joint development. Learning from each other and successfully achieving goals together is what connects HARGASSNER and the female and male luge athletes. Our biomass heaters contain know-how from almost four decades. Nevertheless, just like the top athletes in winter sports, we are always striving to improve and make good things even better in order to emerge victorious from a challenge in the end," says owner & managing director Markus Hargassner.
Sponsoring winter sports already has a long tradition in the HARGASSNER company and is now being extended to include the international luge family. The beginning of a new, professional and familiar partnership, which further intensifies the long tradition of wintersports at HARGASSNER.