Heads of Polish federation visit FIL headquarters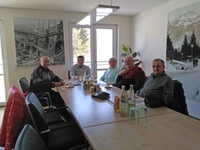 Berchtesgaden (FIL) A four-member delegation from the Luge Federation of Poland has paid a visit to the headquarters of the International Luge Federation (FIL) in Berchtesgaden. President Michal Jasnosz, who was accompanied by General Secretary Janusz Tatera, Lucjan Kudzia and Jan Błoński, was very impressed by the museum, which contains a display about the history of luge at the Olympics.
The discussion with FIL Executive Director Christoph Schweiger focussed on the development of luge in Poland. The delegation was very interested in the new, cost-effective track construction technology for artificial tracks that is currently being used in the construction of a track in Bludenz (AUT). According to President Jasnosz, Poland is planning to build a natural track.
Another visit to Berchtesgaden is planned for the summer. This may well include a meeting with FIL President Josef Fendt.